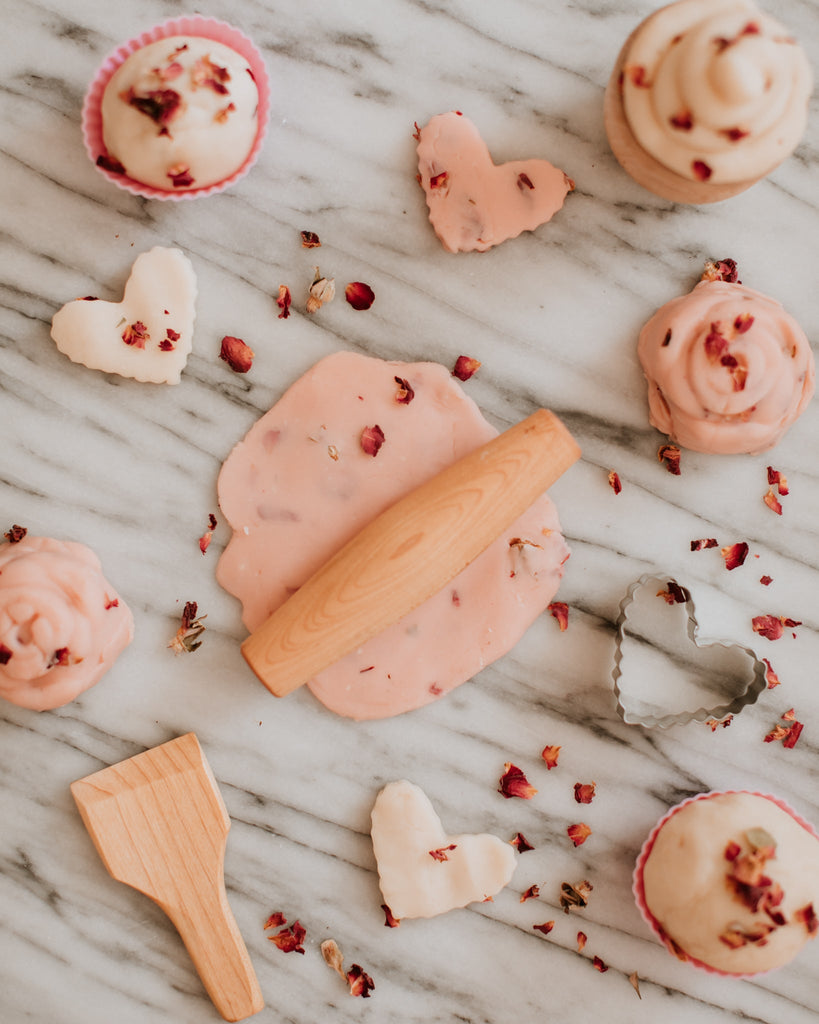 How To Make Homemade Play Dough
I've been making this play-dough for many years, it always turns out well and lasts for many, many months in an air-tight container. This play dough has a store bought consistency; in fact, my children like it better! My 5 year-old even said, "Mama, you make the best play-dough. It's soooo soft." So, I'll take that as a raving review.
Having a homemade play dough recipe in your back pocket can turn around a day that's heading south. Hands in soft play dough can calm storms of emotions and settle spirits. This play dough takes a few minutes to whip up and, if kept in an airtight container, can last for over half a year.
Depending on the holiday or season, we like to switch up the color or other add-ons. For this round of play dough, I left half a natural color and used food coloring to color the rest a light pink. I added dried rose petals to usher in the upcoming Valentine's Day holiday. We had so much fun making heart cookies and cupcakes decorated with roses. The add-ons that can be used with play dough are endless, so have fun!
Homemade Play Dough Recipe
Ingredients
2 cups flour
2 cups water
1/2 cup salt
2 tbsp coconut oil
4 tsp cream of tartar
food coloring (optional)
kid-safe essential oil (optional)
Mix dry ingredients together and set aside. Add food coloring to water (I use 8-20 drops depending on the color I am going for). Pour water over the dry ingredients and mix until relatively clump free. Melt coconut oil in a saucepan over medium heat. Add in remaining ingredients and stir continuously. The play-dough will begin to get lumpy. Once it becomes one mass, remove from heat and place on a cutting board to cool. Once cooled, knead by hand. Add a few drops of essential oil. We like a calming or balancing blend, or a germ-fighting blend during sick season is great too! This play-dough can be stored in an air-tight container for many months (ours typically lasts 6-9 months).
We love to pair this play-dough with our Play Dough Kit and our Sensory Play Tools. I hope you enjoy this play dough as much as we do in our house. Make sure to tag us on Instagram if you use this play dough so we can see your creations!
Many blessings,
Terra