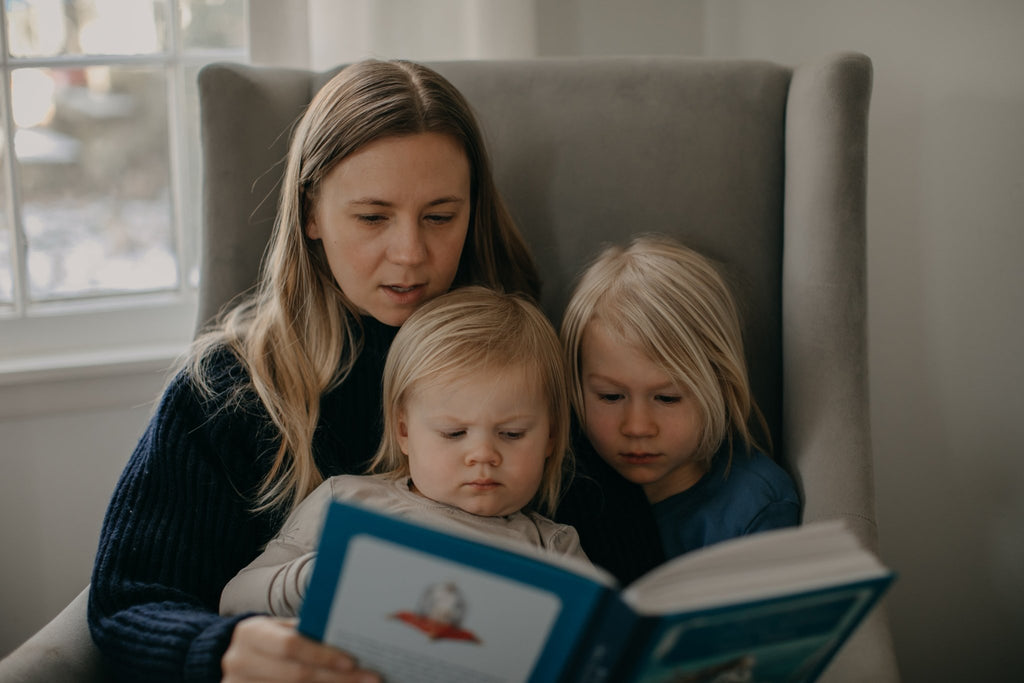 We adored our Christmas books during the holiday season but once they have been put away, we pull out several Winter books that remind us of all the joy that truly can be found during these cold months.  We find ourselves cuddled close together more in Winter, reading the day away.  It often seems these books spark imaginations and we will change our nature table to suit the theme of them, often pulling in characters from the books.  What were once peg people are now snow children, the wooden pond is flipped to show it has iced over, and some of our wooden animals go to hibernate in makeshift caves and burrows.
Here are our current favorite books, some we stock in the shop and others are easily found on eBay or Amazon.
Brambly Hedge Winter Story by Jill Barklem
The Winter Story of Brambly Hedge is quite possibly my favorite of the seasons.  The mice spend the story creating a magical ice ball and then dancing the night away.  It's truly magic.  Our version of Brambly Hedge is a compilation of all the books and I have to say, I love it.  It's bigger than the individual, small books and the illustrations really seem to come alive.
A wordless book featuring everyday winter scenes your children can easily see themselves in.  Gerda Muller's Seasons are a rest-time favorite, as children feel at ease looking at them alone.  We stock the individual and gift set.
The Story of the Snow Children by Sibylle von Olfers
This book is a perfect read for toddlers moving away from board books and into longer books; it's very sweet and not TOO long.  Little Poppy is watching the snow fall outside her window when she notices that the snow is actually snow children.  A sweet adventure to the snow kingdom follows.  This story is one of my children's favorites.  We stock the beautiful, hard to find, larger edition of this book.
A young girl finally gets her turn to go owling with her father, late one winter night.  It's dark and she has to be quiet for her chance to see an owl (and she might not see one at all).  This is a book about patience and hope, with beautiful illustrations with lots of well-hidden animals to find on the pages of this dark, winter night. 
Winter Poems by Barbara Rogasky
It was evening all afternoon.
It was snowing
And it was going to snow.
- Wallace Stevens
Reading a new poem each week to my children is an intention of mine this year.  Poetry is such a source of light and hope to me and speaks to my soul in its own intriguing way.  This book of winter poems is filled with well-known poets and classic illustrations.  The poems are short enough for little ones attention (and even memorization!).
Winter is Coming by Tony Johnston
A girl, an open tree fort, her sketchpad and nature.  Every day, she ventures to her tree fort and watches the animals seek food and shelter as the Autumn turns to Winter.   This book resonates deeply with my oldest nature lover, he asks for it often.  Favorite Jim LaMarche's illustrations have never been better. 
We hope these books warm your hearts and homes through the bleak, winter months.
Much Love,
Terra, Owner + Mama of II